20 Pictures That Will Convince You Black Decor Is a Major Rising Trend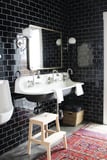 Before you reach for a bold bright or a safe gray, consider the hottest color of the moment: black. From moody nurseries to dramatic wedding gowns, people are finding new and nontraditional ways to incorporate black into their lifestyle. And home design is the perfect arena to get in on the trend, as demonstrated by the abundance of results elicited by a "black decor" search on Pinterest.
We've rounded up some of the best black home design pieces, from furniture DIYs to dreamy kitchens to shoppable products. We bet that you'll be ready to turn to the dark side before you're even done scrolling through.