50 Pretty and Affordable Wedding Favors You Won't Believe All Come From Amazon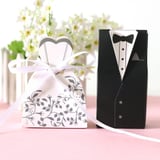 There's no better way to thank your guests for coming to your wedding than by gifting them with the perfect wedding favor. From candy-filled bags to tiny trinkets, these wedding favors only make the big day even better.
With fast shipping options and affordable price points, these picks from Amazon are some of the best. Every wedding guest will love them, we so solemnly swear.