Every Who Down in Whoville Will Want These Grinch Family PJs – Even Your Dog!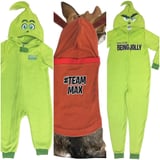 Is there anything better than queuing up your TV and watching How the Grinch Stole Christmas during the holiday season? Absolutely not. But thanks to a brand-new version of the classic starring Benedict Cumberbatch already out in theaters, there's bound to be tons of Grinch-themed garb floating around out there.
And while we're totally obsessed with green plush Build-A-Bears and the DIY Whoville Gingerbread House, these Grinch-themed pajamas for the whole squad – including the dog – are far and away our favorite items yet. Scroll through to get a look at these adorable onesies and make sure to score your family a set ASAP!