FYI Holiday Shoppers: College Girls Desperately Want All of These Fun Gifts This Year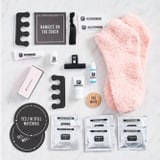 College students love coming home because they get completely spoiled by home-cooked meals, people who do their laundry for them, not to mention all the time that they can finally catch up on some much-needed sleep. As far as coming home for the holidays go, this is one of the few times of the year that these students can finally get exactly what they need for the upcoming semester. Make sure you give the undergrad on your list the perfect present this year to fully prepare them for the rest of the school year ahead.
From empowering pens to chic backpacks and even to yummy "Brain Butter," these gifts address all the needs of the college gal that you're shopping for. Oh, and they are all less than $75!