Help! I've Fallen Madly in Love With Trader Joe's Wine Bottle Succulent Gardens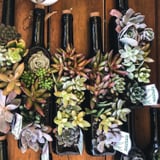 Please pardon the interruption, but I have a breaking announcement, and I simply can't wait any longer. Trader Joe's just started selling wine bottle succulent gardens, and they're just as whimsical and adorable as you'd imagine. Each of the booze-themed planters features a different assortment of succulents nestled in a sliced, soil-filled wine bottle, thus combining two of my favorite things into one Instagram-worthy piece of windowsill decor.
From the looks of it, only a few Trader Joe's stores – specifically, ones in southern California and Nevada – have begun rolling out the $13 masterpieces for customers so far. But judging by the widespread popularity of Trader Joe's skull-shaped succulent planters and the general obsession with the low-maintenance houseplants, it's only a matter of time before they hit shelves at other locations.