No Surprise Here, but Target Has Every Single Thing a 20-Something Wants For the Holidays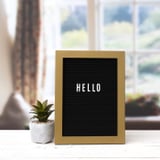 How is it possible that one of the best parts of the holidays is also the worst? Getting and giving gifts is what makes the holiday season go round, but finding the perfect present often comes with a new form of seasonal stress.
This stress is particularly prominent when trying to find a gift for the 20-something on your shopping list. What do they need? What do they like? And what do they want? Well, lucky for you, Target has done it again with great gifts to complement the life of any young adult.
The young adult on your holiday list deserves these fun, nostalgic, and functional gifts ASAP. Oh, and they are all under $100. Cheers to you, Target!