Peppermint Bark Oreos Are Hitting Shelves Soon, So Start Prepping Your Hot Cocoa NOW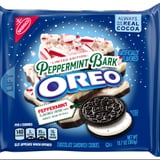 Look, I love inhaling Christmas cookies like a vacuum loves inhaling pine tree needles, but you know what I don't love? Baking said cookies from scratch. That's precisely why I nearly lost my dessert-loving mind when I heard that Oreo is dropping a new peppermint bark flavor. Could it really be? A premade, no-fuss holiday cookie that comes in a resealable package and a festive flavor so I don't have to worry about accidentally mixing cracked egg shells into my cookie batter?
Not to be confused with the previously released Peppermint Creme Oreos or Candy Cane Oreos, these new and improved treats feature peppermint-flavored creme with crunchy sugar crystals sandwiched between two classic chocolate cookies. I'm not sure about you, but just the thought of them is making me drool a little. The limited-edition Peppermint Bark Oreos officially hit stores on Oct. 29, just one month before the highly anticipated Mickey Mouse birthday cake-flavored Oreos drop. You better believe I'll have a steaming mug of hot cocoa prepped and ready for some dunking.