Pillsbury's Strawberry Cheesecake Sugar Cookies Are Here, and Thank God They're Extra Large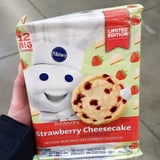 At the start of 2019, I made a resolution: do more things that will challenge me. Do you think eating a whole 12-pack of Pillsbury's new ready-to-bake Strawberry Cheesecake sugar cookies falls under this goal? The Doughboy blessed shoppers everywhere with this limited-edition flavor, which has been spotted by Instagram user @candyhunting at Hy-Vee. Each package includes cheesecake sugar cookies with strawberry-flavored bits inside. Oh, and did we mention they're the *big* ones?
According to Best Products, this Strawberry Cheesecake flavor was chosen by fans through a Facebook poll and is marked on shelves at $5 for two packs. Eager dessert-lovers can find where to purchase their very own cookie dough through Pillsbury's website. Happy snacking!