The Most Popular Holiday Cookies in Every State, According to Google — Food Trends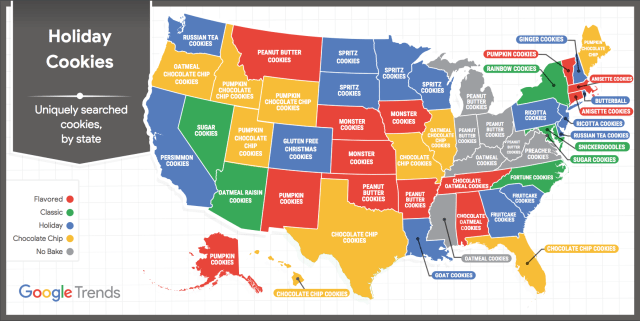 Everyone has a favorite holiday cookie from the cookie plate. Sugar cookies are nice, and yeah I can get down with some gingerbread, but I'm always secretly eyeing the peanut butter blossoms or the spritz cookies. What about you?
This year for the holidays, we asked Google to tell us the most-searched holiday cookies in every state. They looked at searches across the country during the beginning of December and compiled this very interesting list. I'm honestly a little surprised by their findings! You'll see lots of chocolate chip cookies, pumpkin cookies, and no-bake finds. The Midwest is dominated by spritz cookies (no surprise there), and apparently there's something called a "monster cookie" that I have yet to try.
READ MORE »