This Instant Pot Butternut Squash Soup Is Everything You Love About Fall in 1 Recipe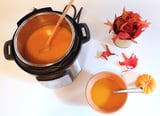 Fall soups can be so satisfying for weeknight dinners and so impressive at holiday gatherings. This recipe for butternut squash soup made in an Instant Pot will impress everyone seated around your table. The best part? It's just a handful of ingredients and will be ready in 30 minutes or less depending on your chopping speed. You'll want to select a smaller squash at the market for this recipe, and I highly recommend some toasted baguette or country bread for dipping.
As an added bonus, this delicious soup itself just happens to be gluten-free (depending on the broth you use, of course) and dairy-free, and it can be made vegan (again, depending on the broth), so it's a good dish to have on hand if you're having guests over who might have restrictions. Here are all the steps to make it.