Urban Outfitters's Crystal Ball Essential Oil Diffuser Is a Cute AND Practical Gift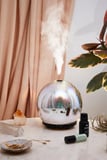 Diffusing essential oils has a slew of benefits and can be a great addition to your self-care routine. And while the most important thing is finding a functional diffuser that works with your favorite oils, it certainly helps if the diffuser itself is cute and looks good sitting on your bedside table. So we looked into our crystal ball and discovered this supercool option from Urban Outfitters, and now we want one for every single room. The 3D LED Gala Essential Oil Diffuser ($65) is a plug-in ultrasonic diffuser that humidifies and adds scents to the air along with "LED mood lighting," which comes in 14 colors to choose from. It looks exactly like a crystal ball, and it'll provide your space with an extra dose of zen.
Although this diffuser is on the pricier side, reviewers seem to love it and claim that it's worth the money, especially as a gift for a crystal-obsessed friend. One wrote, "I am so glad that I decided to spend a little more on a diffuser and go with this one. I find myself moving this bad boy from room to room. Not only is it an excellent diffuser that works with every oil I have tried in it with a water reservoir that makes fill-ups few and far between, it is so rad looking! Your house will smell better, your skin will be more moisturized, and you'll look so beautiful in its soft light. What's not to love?"
Convinced this crystal ball will grant you many relaxing nights at home? Shop it ahead.